EXISTENCE ESTABLISHMENT PRESENTS:
$10 Stratvm Terror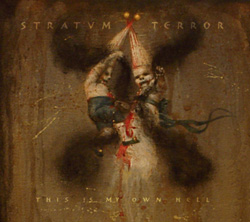 This Is My Own Hell CD
Welcoming the return of Peter Andersson (Raison D'etre, Necrophorous) and Tobias Larsson (Ocean chief), Existence Establishment and Reverse Alignment present "This is My Own Hell" with over an hour's worth of the darkest, bleakest industrial soundscapes these artists have delivered. Spanning minimalist dark ambience to doomed industrial passages Stratvm Terror portrays an absolutely hopeless atmosphere of pure desolation. With artwork featuring the paintings of Mia Mäkilä, "This is My Own Hell" may just be your own pleasure. Limited to 1000 copies in 4 panel full color digipak. Available in Europe from
Reverse Alignment
and
Existence Establishment
for the rest of the world.
...

In Oblivion

Unveiled Is My Skin [Full Track]

In God We Do Not Trust

Walk With Fire [Excerpt]

No Redemption No Remorse

My Hell [Excerpt]

Now Ever Sleep

Full color artwork on glossy stock

Pro-pressed CD limited to 1000 copies.

Beautifully rendered design by Mia Mäkilä.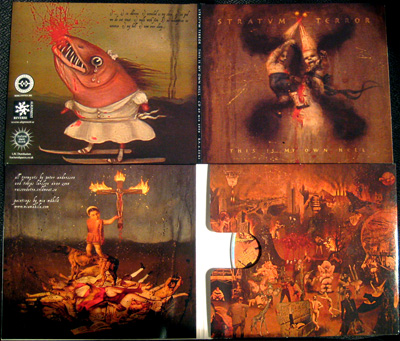 *Purchase this and other releases by paypaling to
egan@existest.org
or from the
Existence Establishment MySpace page.
OTHER NEWS:
1 more copy left: Sky Burial - Skinwalker 3"CDR
!DELETED! Xiphoid Dementia - Rehearsals for Extinct Sonorities DVD
Upcoming Releases:
Xiphoid Dementia - Might Is Blight CD

Noisewerrrrk - TBD CDR

V/A - Blood Ties Document 2008 CDR

Lackthrow - TBD 2xCDR

Still Accepting Submissions for Blood Ties Document 2008:
Blood Ties Documents are aimed to be a yearly compilation of "notes from the noise/industrial/experimental/ambient/etc. underground." They will be limited CDR releases that will be mailed for free to labels and projects that have made submissions to Blood Ties over the last year as a "thank you" for thier continuing support of my webzine, and the world of noise in general. Extraneous copies will also be sold through Existence Establishment for an economical price.
Blood Ties Document 2008 Compilation Submissions:
Rules are that the submission in question can be available no where else and must have been created in the year 2008. Valid submissions can include live sets, tracks from sold-out limited releases, outtakes, and anything else you can think of. Feel free to submit artwork, photos or anything else of any signifigance. All artists that are accepted and appear on the final comp will recieve 2 free copies, and copies will be sent out to labels who have submitted releases to Blood Ties.
Submissions can be sent (preferrably in digital format) to:
Egan Budd
104 Walter St.
Roslindale, MA
02131
USA
or links can be emailed to:
egan@existest.org
STILL AVAILABLE:
$10 Human Larvae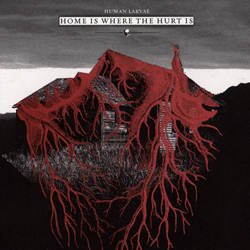 Home Is Where The Hurt Is CD
Click to view the trailer.
Introducing the debut full-length of this new Dresden based heavy industrial/power electronics unit following his 3 inch CDR on Silken Tofu. Taking cues from styles as diverse as the cinematic Navicon Torture Technologies and grungy lo-fi ...Today I'm Dead, Human Larvae delivers an emotional torrent of self-destructive force with "Home is Where the Hurt Is". Spanning a running time of over an hour, styles range from rhythmic orchestral industrial to bleak passages of black noise with a good dosage of throbbing feedback and scathing vocals. There is some sick twisted narrative to be found here but the search for these mysterious happenings will bring you to places you may never return from.
I Feel Therefore I Hurt

Radiation Wasteland [Excerpt]

Rapist Pig [Full Track]

I Do This Because I Love You

To Hide in Her Uterus and Hopefully Suffocate in Absolute Tranquility

A Celebration of Open Skin [Excerpt]

Tis My Desire to Loath in the Fires of Vengeance

Lips Will Bleed + Hearts Will Break [Excerpt]

Ashes to Ashes, Dust to Dust

Each copy hand numbered and assembled.

Pro-pressed CD limited to 500 copies.

Black and metallic red ink printed on recycled heavy stock.

Beautifully rendered design by Monica Greenwald.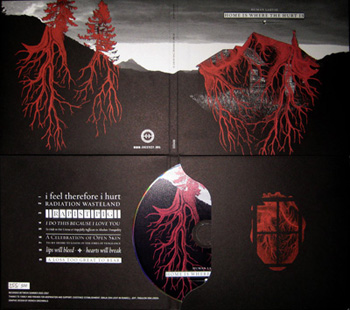 $4 V/A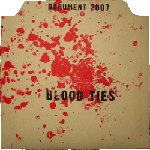 Blood Ties Document 2007
[/b]
A collection of noise and experimental music created in 2007. Tracks from sold-out limited releases, live sets, outtakes, etc. Ranging from minimal ambient and experimental, to power electronics, to harsh noise.
Featuring: Anapthergal, Keplers Odd, Content Nullity, Oubliette, Fixture for Toxins, Lackthrow, Noisewerrrrk, Norther Machine, +Dog+, Mystified, and Salvation for Sale.
Blood Ties Document is a yearly compilation that will be sent out to labels and artists that have made submissions to
Blood Ties WebZine
.
Lakkalanga - cL.Y

+Dog+ - No Regrets

Content Nullity - Pure Refined Chaos [Full Track]

Oubliette - RTHHDFGHDFH

Lackthrow - CUSP

Noisewerrrrk - Baal Molok Remix

Fixture For Toxins - Skynning Till Puder [Full Track]

Salvation for Sale - Valerie Solanas

Anapthergal - Live 9.24.07 [Excerpt]

Northern Machine - Everthing Touches Everything Else

Keplers Odd - 070826-3 [Excerpt]

Mystified - Expedition Ghosts

Comes in a unique hand made sleeve.

Silkscreened artwork with printed insert.

Each individual copy hand-numbered.

Limited to 78 copies.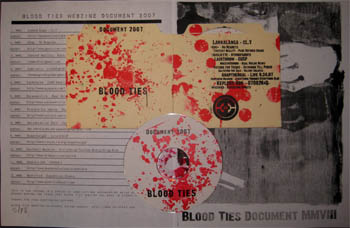 $10 Broken Diode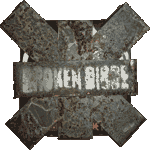 Screaming On The Inside
Twisted, abused, and squealing electronics meld to form an abrasive wall of unrelenting blistering noise. Textures range from crunchy-cut up brutality to wallowing passages of self-destructive loathing. The debut album from this Dresden based project rises from the ashes of broken towers and forms a scathing intrinsic diatribe.
Emotional Discharge I [Full Track]
Emotional Discharge II [Excerpt]
Emotional Discharge III
Emotional Discharge IV
Emotional Discharge V
Emotional Discharge VI [Excerpt]
Emotional Discharge VII
Emotional Discharge VIII
First 74 copies comes with gross corroded metal case.
Comes with a full color 11'x17' poster.
Each individual copy hand-numbered.
Limited to 104 copies.
Note: Due to the handmade nature of the release, packaging may vary